Chartered Accountancy professionals are highly respected and compensated individuals in India and overseas. As a CA, the candidate has undergone rigorous study and practical learning for years to equip themselves with all the knowledge to offer services. The CA Subjects mostly deal with Accounting, Finance, Taxation, Law, Economics, and practical training.
ICAI hasn't specified any prerequisite subjects needed for CA. If you are planning to become CA, the most important factor is the ability to work hard and understand the Chartered Accountant subjects.
However, having a commerce background during your school or graduation has an added advantage since you may grasp concepts better than others. Further, you may become familiar with the subjects, which will make you confident.
So choosing your subjects wisely during school or graduation can help you better clear the CA exams. Let us check about the CA Subjects necessary during your school and college to perform better in CA.
CA Subjects In School
Most schools are affiliated with an authorized educational board. Hence they have a well-defined curriculum till the 10th, which students need to cover to clear the 10th exams.
So during their 10th, mostly the students cover Math, English, General Science, Social Science, and Language Subjects. The Math they cover during their 10th can help with Arithmetic, speed up their calculations, and help with other topics in the CA Foundation subjects.
Further, English is a critical part of any curriculum, and CA aspirants need good communication and writing skills to communicate with their clients during their practice. Apart from that, students will answer the paper in English. So this will help the students to write the paper well with proper English and with no major difficulties.
Social Science subject includes Economics which gives the students a quick look into the country's economy. This will help in studying for paper 4 of CA Foundation which is Business Economics. So this is all all about the CA Subjects in class 10th.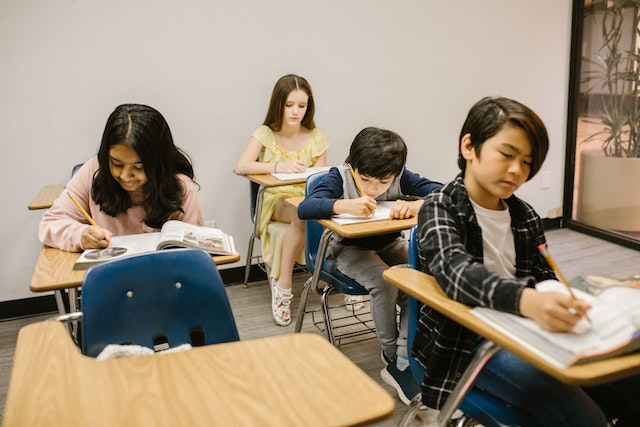 Any student may pursue CA after completing the 12th grade, whether they are a science or commerce student. However, individuals with a commerce background choose the Chartered Accountancy curriculum due to its natural ability for its key course, Accountancy.
It is mandatory for all commerce students to focus on Accountancy as it is the base of the CA Course. They should focus more on understanding the concepts rather than memorising them. The next thing is Math. We will clarify the doubts below.
Commerce With Or Without Math
Since we all understand, anybody may choose to become a CA, regardless of whether or not they are from the commerce stream. However, students from Commerce are more likely to choose to become CAs, as their courses closely resemble their entry-level examinations.
Mathematics with commerce is the cherry on the cake since it is a required subject for CA Foundation. However, just for clearing, CA Foundation doesn't opt for Math since you have to put effort into Accountancy, and Math can add up. If you can manage Math, then go for it. Or else, during your CA Foundation preparation, VSI Jaipur can help you understand math, and you can learn the tips and tricks to solve questions effortlessly.
Read More: Which country has more English Speakers? 
About Science Students
Well, Science students can only take advantage of the Mathematics paper. However, the rest of the CA Foundation subjects, like Accountancy and Economics, can be challenging. Further, the Law paper is new for both streams. Yet, Science students still manage to clear the CA Foundation with dedication and effort.
As you clear the CA Foundation exams, then the CA Intermediate subjects will be the same for all the students. This means both science and commerce students have enough knowledge to study the subjects in the Intermediate course.
VSI Jaipur is the guide for the students who are aspiring to become Chartered Accountants. The benefit of joining VSI is they focus on building strong concepts that will help the students in clearing the CA course easily.
Now, let us check the subjects during your college.
Subjects Needed for CA in College
If a student wants to complete graduation and pursue the CA course, then join the B.com course. Additionally, if you are from a science background and wish to pursue CA, you can change your stream and opt for B.com.
Since CA subjects are associated with commerce subjects, students who enrol in Bcom find it straightforward to balance CA coursework with their graduation course. Here are some CA Subjects you must take for CA when in college:
Accounting and Finance
Auditing and Taxation
Advanced Accountancy
Financial Accounting
Business Economics
Mathematics
GST
Insurance Management
Tax Procedure and Practice
IT
Banking and Finance
Insurance and banking
Also Check: Top 13 tips on how to study faster
Overview Of CA Foundation Subjects
CA Foundation is a prerequisite exam for pursuing Chartered Accountancy. The course closely resembles your 11th and 12th-grade curriculum (Commerce stream). Remarkably, the CA Foundation curriculum subjects are also included in the B.com program.
So the CA Foundation subjects are:
Principles and Practices of Accounting
Business Law and Business Correspondence and Reporting
Mathematics and Logical Reasoning and Statistics
Business Economics and Business and Commercial Knowledge
Conclusion
The ideal knowledge about the CA Subjects can help you prosper well in this profession. If you are still reluctant about the subjects or need assistance in CA preparation, then VSI Jaipur is here to help.